Gym Leader Level: 29–30
Path to Cascarrafa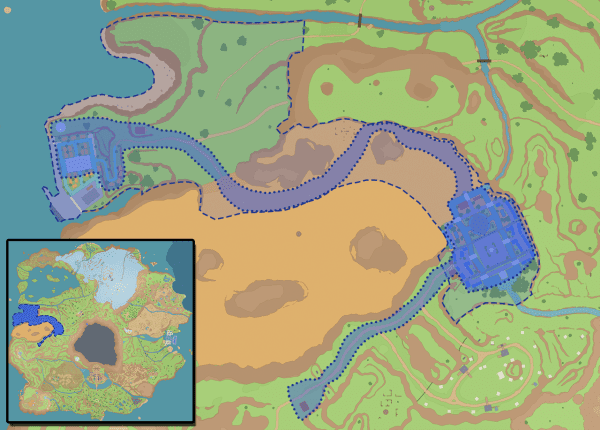 Getting to Cascarrafa is either very easy or quite a bit of a trek, depending on how much progress you've done on the other two storyline paths. If you've been following the overall recommended order, you'll have hopefully taken down the Open Sky Titan and Team Star's Dark crew, in which case you can just fly to the Pokémon Center by Team Star's Dark Base and head northeast, straight to Cascarrafa.
If you haven't gone that far yet, though, you'll want to start in Cortondo and follow the road leaving the west end of town. It will zigzag along some cliffs, but just keep following that path until you find a bridge. Cross the bridge, then continue following the path until you find the Pokémon Center. From there, head east towards the windmills, then north across another bridge, and keep following that road to the northeast until you arrive at the Pokémon Center outside of the Team Star Dark Base.
If you haven't fought them already and have already fought Iono, you'll have no trouble taking down the Team Star Dark crew, which will open up the gate leading to Cascarrafa; if you don't want to fight them, that's fine, too—just jump down the cliff to the north, into the Asado Desert, and hug the southern edge of the desert, heading east until you arrive in Cascarrafa.
Cascarrafa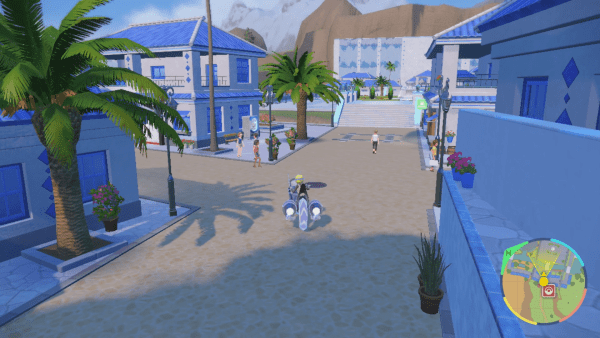 Cascarrafa is an interesting multi-level city, where you can use elevator platforms that are placed near the walls. There are plenty of shops in town and a lot of items around town as well, but if you're going for the Gym (you're on this page, aren't you?), you'll want to get up to the highest level on the south side of town. The Gym building is there.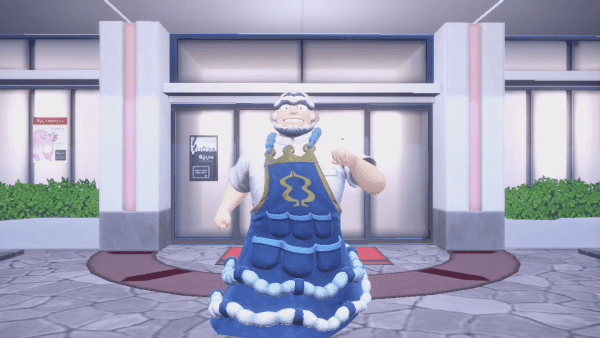 However, as you approach the Gym, the Gym Leader, Kofu, will run off, and the receptionist will come outside and ask a favor of you: she'll ask you to return Kofu's wallet, which he left behind, to Kofu all the way in Porto Marinada. If you can do that, that'll complete your Gym Test.
Additionally, you can find TM130 Helping Hand on the middle level, by the door to a house to the northeast of the central plaza area.
Delibird Presents Shop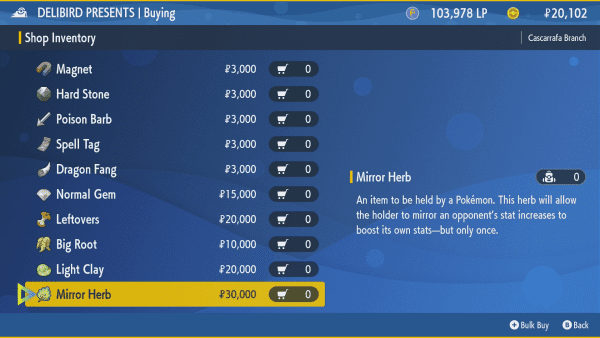 The Delibird Presents shop in Cascarrafa has some helpful items in its Battle Items inventory, which you can find down below:
Delibird Presents, Cascarrafa Branch

3,000
Magnet
Raises the power of Electric-type moves by 20%.

3,000
Hard Stone
Raises the power of Rock-type moves by 20%.

3,000
Poison Barb
Raises the power of Poison-type moves by 20%.

3,000
Spell Tag
Raises the power of Ghost-type moves by 20%.

3,000
Dragon Fang
Raises the power of Dragon-type moves by 20%.

15,000
Normal Gem
Raises the power of the first Normal-type move used in battle by 50%.

20,000
Leftovers
Heals the Pokémon's HP between each turn.

10,000
Big Root
Increases the amount healed by HP draining moves (not damage done).

20,000
Light Clay
Increases duration of Light Screen, Reflect, and Aurora Veil to 8 turns.

30,000
Mirror Herb
Copies the first stat increases by the enemy's move or effect. Also allows the holder to learn Egg Moves by Pokémon in picnics that know them (regardless of gender) if there are available move slots.
The Normal Gem is particularly useful for any of your Pokémon that use Normal-type moves, as it boosts the power of the first one it uses by 50%. It consumes the item for the rest of the battle, but unlike older games, you get the Normal Gem back after the battle after using it.
The same holds true for the Mirror Herb, although that's less useful to reuse. However, the Mirror Herb is particularly useful, as it allows the holder to learn any Egg Moves that it or its previous evolutions can learn so long as there is a Pokémon in the party that knows the move and the Pokémon holding the Mirror Herb has an empty move slot. This is done while taking a picnic, similar to breeding, although the Pokémon teaching the move and the Pokémon learning the move don't even have to be compatible—they can be any gender, any Egg Group, etc.
Path to Porto Marinada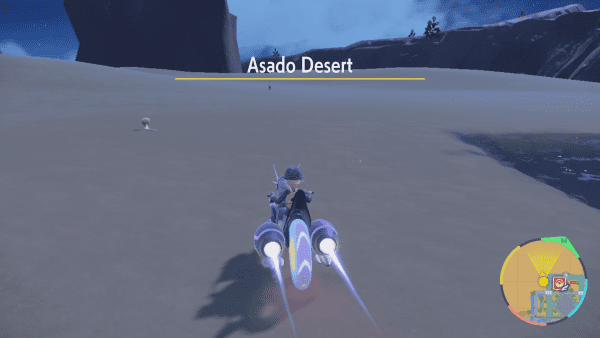 That's right, you can't just walk into the city and take on the Gym Leader like with the other Gyms. You'll have to do some traveling first! Head to the north to the Asado Desert. Your goal is to cross the northern part of the Asado Desert to get to Porto Marinada.
The easiest way to do this is to just hug the northern part of the Asado Desert area, heading west, until you find some ruins. Go directly south of the ruins (instead of further west), and follow the base of the large mountain until you see a path leading out of the desert to the north. The map at the top of the page shows the path you'll want to take. You'll find Porto Marinada to the west, although be sure to stop by the Pokémon Center and optionally the lighthouse for quicker Flying Taxi fast travel points.
As you approach Porto Marinada, you'll see Kofu looking at some flowers. He'll then run off to Porto Marinada.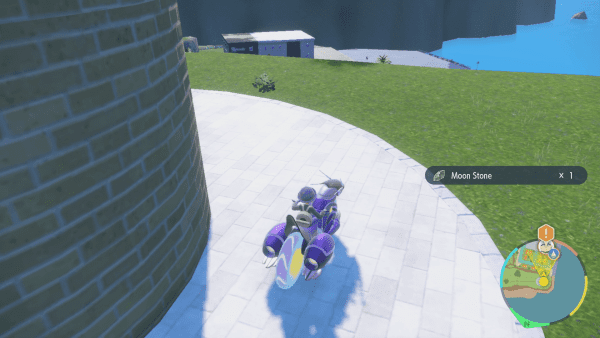 There's also a Moon Stone behind the lighthouse, which can be used to evolve certain Pokémon such as Jigglypuff into Wigglytuff, and also TM163 Hyper Beam atop the lighthouse.
Porto Marinada
Your destination, Porto Marinada, doesn't have a lot in the way of buildings or shops, but it does have a very important building smack dab in the middle of town—the marketplace! Inside of the marketplace, you'll find several stands selling various goods, as well as daily auctions, although before you can do much there, you'll want to track down Kofu.
As you approach Kofu, you'll be stopped by a Gym Trainer, who will challenge you first. He uses a Floatzel Lv. 28 and a Clauncher Lv. 28. Take him down and then you'll be able to return to Kofu his wallet.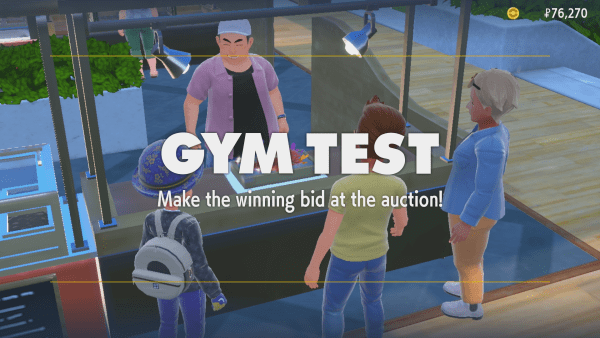 However, he'll have his own Gym Test for you, and brings you to one of the auctions to buy some seasoning. He'll give you
50,000, but you'll have to participate in an auction against two other people. You can either pass (as long as two people remain), bid a little higher, bid a lot higher, or, in normal auctions, withdraw. Your goal is to buy the item for as cheap as possible, so don't bid too much, but also try to apply pressure. If you buy the item for less than
50,000, Kofu even lets you keep the change, nice!
Going forward, the auction stands change every in-game day, so you can check back here every hour or so of real-world time if you're playing to see what deals they have. Sometimes there are very good deals, sometimes the bids get a bit out of control, so keep that in mind.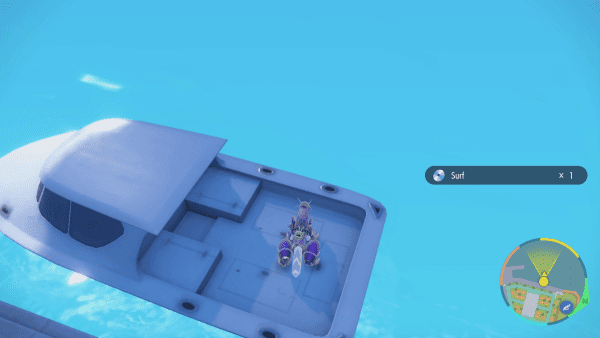 Also, before you leave Porto Marinada, a very useful TM to pick up is TM123 Surf, which can be found on one of the boats to the west of the houses. There's also the Assault Vest, which can be found behind the fence behind the warehouse in the southern part of town. The Assault Vest is very useful for attackers; it raises the holder's Sp. Def by 50%, but prevents it from using any Status moves, so it's a nice option for Pokémon with four attacking moves. You can also find TM083 Poison Jab by following the river by the fence to the east, and it's sitting on the little ledge there, and there's a Chipped Pot at the base of a tree directly north of that ledge, which can be used to evolve authentic Sinistea into Polteageist.
Cascarrafa Gym
Make your way back to the Cascarrafa Gym and you'll be able to take on the Gym Leader now that you've returned his wallet and helped him get his ingredients. You might want to heal first, in case your Pokémon are weary from the journey.
Gym Leader Kofu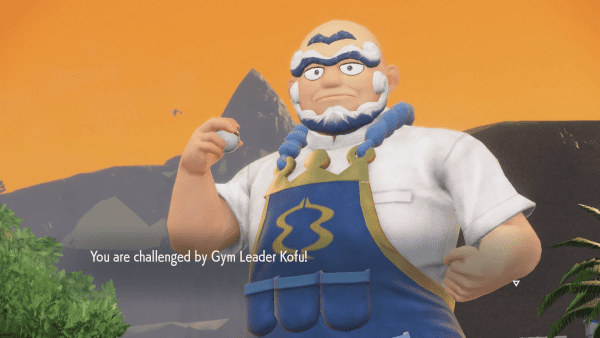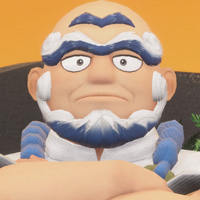 Gym Leader Kofu
5,400

Lv. 29

Veluza
Ability: Mold Breaker

Lv. 29

Wugtrio
Moves:
Headbutt
Mud-Slap
Water Pulse
Ability: Gooey

Tera Type:
Lv. 30

Crabominable
Moves:
Slam
Crabhammer
Rock Smash
Ability: Iron Fist
Kofu uses a few Water-type Pokémon on his team, so you'll want to counter these with Electric- or Grass-type Pokémon. Electric-types are your best bet, though, as he has some counters for Grass-types.
He leads with his Veluza, a new Water/Psychic-type Pokémon. It has Slash, Pluck, and Aqua Cutter for its moves, so be careful if you're using Grass-type Pokémon against it. Despite being part-Psychic-type, it does not have any Psychic-type moves, although Aqua Cutter can hit pretty hard and both that and Slash have a higher critical hit chance.
His Wugtrio is just a pure Water-type and shouldn't be too threatening. It has Mud-Slap, Water Pulse, and Headbutt. Mud-Slap, while technically super effective against Electric, isn't going to do much damage—however, it lowers your accuracy, which isn't good, particularly if you don't switch out to restore it before his final Pokémon gets sent out.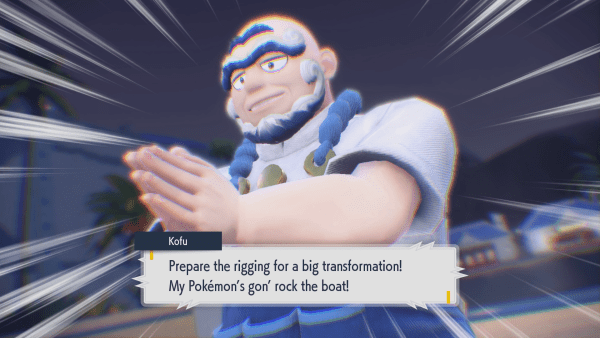 Last up is his Crabominable. While Crabominable is normally a Fighting/Ice-type, it will Terastallize on the first turn that it's sent out, turning it into a pure Water-type, so keep that in mind while fighting it and choosing a Pokémon to use against it! It has a lot of Defense, so using Special-based moves is a better bet, although it also has very high Attack, so beware. Crabhammer is the main threat for its moves, but it also has Slam and Rock Smash.
After you've beaten him, he'll reward you with a badge and TM022 Chilling Water, a Special-based Water-type move that hits for moderate power, but also lowers the target's Attack stat by one stage.
Where to Go Next
If you're following the Victory Road storyline, your next destination is the Medali Gym to the northeast, and there are two paths to get there, although both are rather straightforward. If you're following the recommended order, you'll first want to take on the Team Star Poison Crew base in Tagtree Thicket in the eastern part of Paldea.
Victory Road Path
Recommended Path