Titan Level: 57
Path to False Dragon Titan
In order to get to the final Titan, the False Dragon Titan, you're going to need to head on over to Casseroya Lake in the northwestern part of Paldea. This can be found north of the likes of Medali, Porto Marinada, and the Asado Desert, and you'll need to be able to swim on the water in order to continue, so you need to make sure you've defeated the Open Sky Titan first.
As you approach the lake, you'll get a call from Arven and he'll tell you a bit about the rumors of the Titan Pokémon. Jump into the lake and swim towards the easternmost island. That's where you'll need to find the Titan.
There are a bunch of Tatsugiri flopping around on that island, making various noises. You can fight them if you want by talking to them, but there's one in particular you'll need to talk to, and it's on the southern tip of the easternmost island. It is a bit larger than the other Tatsugiri and says "Taitaaan!" above its head. You can find this marked in the circle by the 1 on the map above.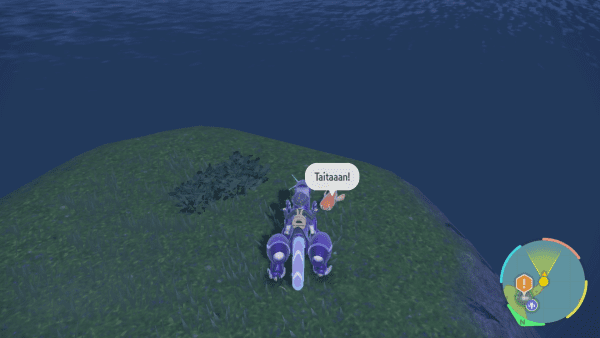 Talk to the Tatsugiri and you'll witness it get swallowed up by a massive Pokémon, which you'll have to fight!
vs. False Dragon Titan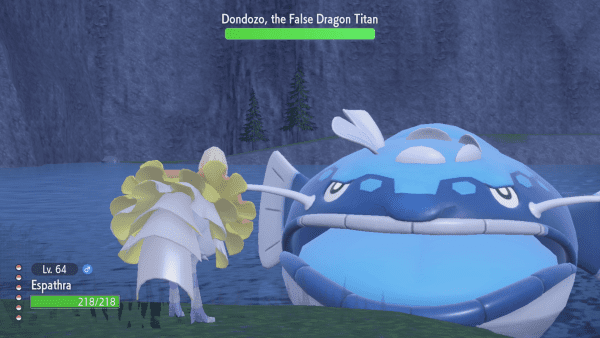 Lv. 56
Dondozo, the False Dragon Titan
Phase 1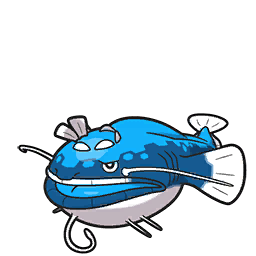 You'll be thrust into a fight against Dondozo, the False Dragon Titan! It's a fairly strong, bulky Water-type Pokémon and can hit fairly hard with its moves, such as Aqua Tail and Knock Off.
After you bring it down to about 10% of its HP, it will flee to the large island over to the east. You'll find its location on your map, but otherwise swim along the northern shore of that large island. Keep in mind that you won't be looking for Dondozo, but for the small Tatsugiri, which is on the beach.
The Tatsugiri will command the Dondozo to smash open the nearby cave, and you'll then have to have another battle against Dondozo, this time with Arven's help.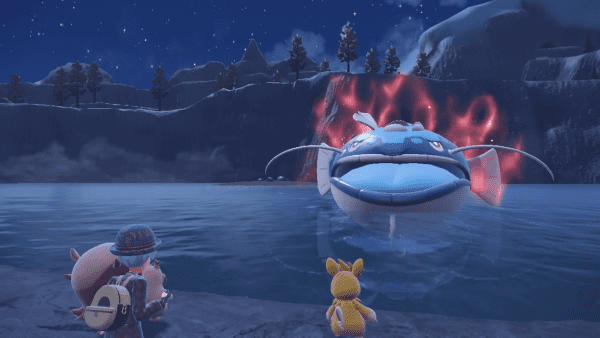 Lv. 56
Dondozo, the False Dragon Titan
Phase 2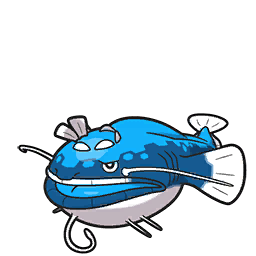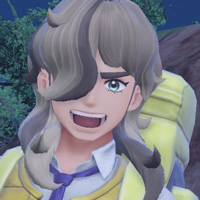 Lv. 55

Greedent
Moves:
Body Slam
Take Down
Tail Whip
Bullet Seed
Ability: Cheek Pouch
Arven uses a Greedent Lv. 55 to help in the fight. Dondozo also has a new move, Order Up, which is a Dragon-type move.
Once you've defeated Dondozo, you'll be interrupted by the true False Dragon Titan—Tatsugiri!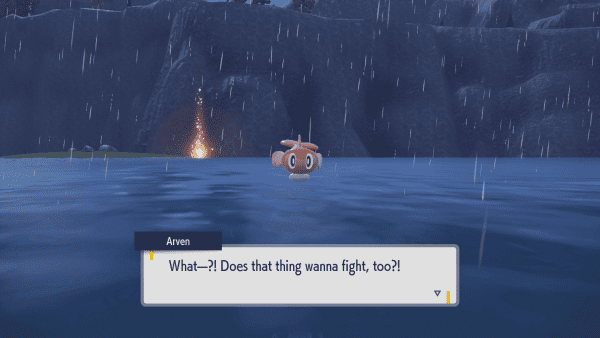 Lv. 57
Tatsugiri, the False Dragon Titan
Phase 2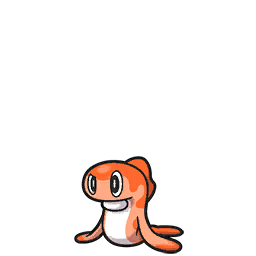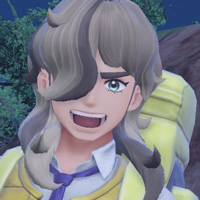 Lv. 55

Greedent
Moves:
Body Slam
Take Down
Tail Whip
Bullet Seed
Ability: Cheek Pouch
You'll have to fight Tatsugiri immediately after Dondozo, in another fight, and Tatsugiri is a Dragon/Water-type Pokémon. It's more of a Special-based attacker and it uses Dragon Pulse against you, so be careful.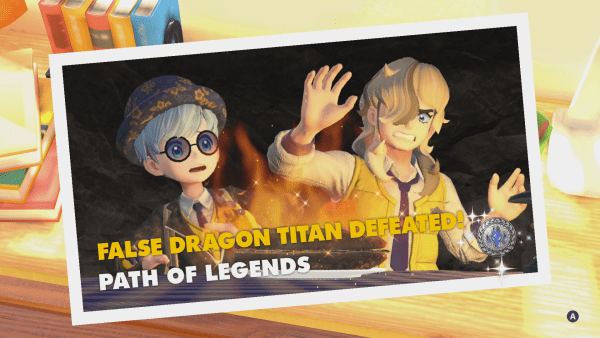 After taking down Tatsugiri as well, you'll have another cutscene with Arven and your Koraidon/Miraidon will then be granted the ability to climb on walls as a result. You can climb pretty much any wall or rocky area by jumping towards it or gliding towards it (or holding B while jumping towards a wall if you have trouble), and then you can climb up and down using the control stick, or can jump away from the wall by pressing B.
Catch Titan Tatsugiri
After you've defeated the duo of Dondozo and Tatsugiri, you can find a catchable Titan Tatsugiri—though thankfully a bit smaller than what it just was—on the shore around where you first talked to it, on the easternmost island. You'll need to battle it, and it's at level 57, making it a bit strong, but you can also catch it this time around.
This Tatsugiri has a special Mark that grants it the title "Tatsugiri the Former Titan" when sent out in battle, and it also has very good stats (30 IVs in each stat), making it quite worthwhile. At least for a Tatsugiri.
Where to Go Next
If you're following the Path of Legends storyline, you're almost at the end of the storyline! You'll have heard a lot of backstory from Arven along the way, and he's ready to return to the lab back in the Poco Path Lighthouse, where you first met him, and this final step marks the end of the Path of Legends storyline. If you're following the recommended path, your next stop should be the Team Star Fighting Base in northeastern Paldea—despite their boss being at a slightly lower level than Tatsugiri, it's actually quite a bit more challenging, which is why it's saved for afterwards.
Path of Legends Path
Recommended Path