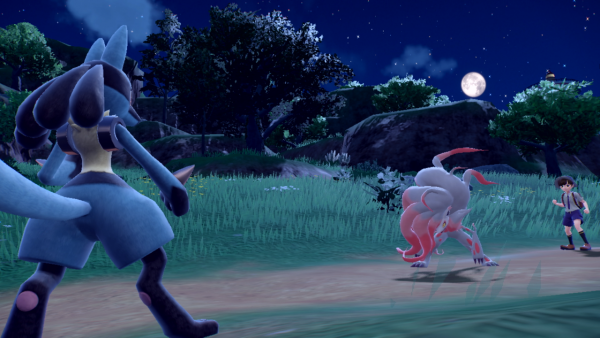 As it's likely that not every Pokémon in the series will be available in Pokémon Scarlet and Pokémon Violet, this page will serve as an index of all Pokémon that have been confirmed to make an appearance in these games, from screenshots, videos, and other media.
According to the first press release for the games, only Pokémon that can be obtained in Scarlet and Violet can be transferred there via Pokémon HOME, meaning, as with Pokémon Sword and Shield, there will likely be several Pokémon that cannot be transferred into the games. Because of that, this page will try to keep track of any Pokémon confirmed to be in the game.
As of February 28, 2022, there are a total of 50 returning Pokémon that have been confirmed or are heavily suggested to return due to official imagery. This count does not include alternate forms.
Some evolutionary stages of Pokémon may not have been officially shown, but the full evolution line will be assumed to be available and will be included here.
List of Returning Pokémon by Date
| | | |
| --- | --- | --- |
| Pokémon | Date Revealed | Notes |
| Starly | Feb. 27, 2022 | Shown in Trailer. |
| Staravia | Feb. 27, 2022 | Evolves from Starly. |
| Staraptor | Feb. 27, 2022 | Evolves from Staravia. |
| Hoppip | Feb. 27, 2022 | Shown in Trailer. |
| Skiploom | Feb. 27, 2022 | Evolves from Hoppip. |
| Jumpluff | Feb. 27, 2022 | Evolves from Skiploom. |
| Petilil | Feb. 27, 2022 | Shown in Trailer. |
| Lilligant | Feb. 27, 2022 | Evolves from Petilil. |
| Hisuian Lilligant | Feb. 27, 2022 | Presumably available as alternate form/transfer. |
| Bounsweet | Feb. 27, 2022 | Shown in Trailer. |
| Steenee | Feb. 27, 2022 | Evolves from Bounsweet. |
| Tsareena | Feb. 27, 2022 | Evolves from Steenee. |
| Psyduck | Feb. 27, 2022 | Shown in Trailer. |
| Golduck | Feb. 27, 2022 | Evolves from Psyduck. |
| Combee | Feb. 27, 2022 | Shown in Trailer. |
| Vespiquen | Feb. 27, 2022 | Evolves from Combee. |
| Drifloon | Feb. 27, 2022 | Shown in Trailer. |
| Drifblim | Feb. 27, 2022 | Evolves from Drifloon. |
| Meowth | Feb. 27, 2022 | Shown in Trailer (Kantonian). |
| Alolan Meowth | Feb. 27, 2022 | Presumably available as alternate form/transfer. |
| Galarian Meowth | Feb. 27, 2022 | Presumably available as alternate form/transfer. |
| Persian | Feb. 27, 2022 | Evolves from Kantonian Meowth. |
| Alolan Persian | Feb. 27, 2022 | Evolves from Alolan Meowth. |
| Perrserker | Feb. 27, 2022 | Evolves from Galarian Meowth. |
| Stonjourner | Feb. 27, 2022 | Shown in Trailer. |
| Clauncher | Feb. 27, 2022 | Shown in Trailer. |
| Clawitzer | Feb. 27, 2022 | Evolves from Clauncher. |
| Wingull | Feb. 27, 2022 | Pre-evolution of Pelipper. |
| Pelipper | Feb. 27, 2022 | Shown in Trailer. |
| Swablu | Feb. 27, 2022 | Shown in Trailer. |
| Altaria | Feb. 27, 2022 | Evolves from Swablu. |
| Pichu | Feb. 27, 2022 | Pre-evolution of Pikachu. |
| Pikachu | Feb. 27, 2022 | Shown in Trailer. |
| Raichu | Feb. 27, 2022 | Evolves from Pikachu. |
| Alolan Raichu | Feb. 27, 2022 | Presumably available as alternate form/transfer. |
| Happiny | Feb. 27, 2022 | Pre-evolution of Chansey. |
| Chansey | Feb. 27, 2022 | Pre-evolution of Blissey. |
| Blissey | Feb. 27, 2022 | Shown in Trailer. |
| Seviper | Feb. 27, 2022 | Shown in Trailer. |
| Larvitar | Feb. 27, 2022 | Shown in Trailer. |
| Pupitar | Feb. 27, 2022 | Evolves from Larvitar. |
| Tyranitar | Feb. 27, 2022 | Evolves from Pupitar. |
| Magnemite | Feb. 27, 2022 | Shown in Trailer. |
| Magneton | Feb. 27, 2022 | Evolves from Magnemite. |
| Magnezone | Feb. 27, 2022 | Evolves from Magneton. |
| Riolu | Feb. 27, 2022 | Pre-evolution of Lucario. |
| Lucario | Feb. 27, 2022 | Shown in Trailer. |
| Flabébé | Feb. 27, 2022 | Shown in Trailer, briefly while viewing the player's house. |
| Floette | Feb. 27, 2022 | Evolves from Flabébé. |
| Florges | Feb. 27, 2022 | Evolves from Floette. |
| Dratini | Feb. 27, 2022 | Fountain of Dratini shown in Trailer. |
| Dragonair | Feb. 27, 2022 | Evolves from Dratini. |
| Dragonite | Feb. 27, 2022 | Evolves from Dragonite. |
| Zorua | Feb. 27, 2022 | Pre-evolution of Zoroark. (Unovan.) |
| Hisuian Zorua | Feb. 27, 2022 | Presumably available as alternate form/transfer. |
| Zoroark | Feb. 27, 2022 | Presumably available as alternate form/transfer (Unovan). |
| Hisuian Zoroark | Feb. 27, 2022 | Shown in Press Release screenshots. |
Alphabetical List of Returning Pokémon
Altaria
Blissey
Bounsweet
Chansey
Clauncher
Clawitzer
Combee
Dragonair
Dragonite
Dratini
Drifblim
Drifloon
Flabébé
Floette
Florges
Golduck
Happiny
Hoppip
Jumpluff
Larvitar
Lilligant
Lucario
Magnemite
Magneton
Magnezone
Meowth
Pelipper
Perrserker
Persian
Petilil
Pichu
Pikachu
Psyduck
Pupitar
Raichu
Riolu
Seviper
Skiploom
Staraptor
Staravia
Starly
Steenee
Stonjourner
Swablu
Tsareena
Tyranitar
Vespiquen
Wingull
Zoroark
Zorua