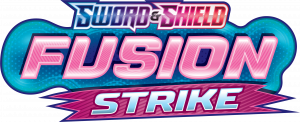 The next Pokémon TCG expansion, Sword & Shield—Fusion Strike, has officially been announced and it is set to launch on November 12, 2021. This set introduces a new type of Battle Style, Fusion Strike Style, similar to Single Strike and Rapid Strike from the Sword & Shield—Battle Styles set.
Fusion Strike Pokémon are said to benefit from teamwork, having extra bonuses to their damage or effects if there are more Fusion Strike Pokémon in play. There are also Trainer and Energy cards that have the Fusion Strike mark on it, which can benefit the strategy.
The set contains 25 Fusion Strike Style cards altogether, including Mew VMAX, Genesect V, and Hoopa V. In total, there are 20 Pokémon V (13 available as full-art versions as well), 8 Pokémon VMAX, 20 Trainer cards (7 available as full-art Supporter cards), and 1 Special Energy card.