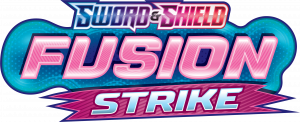 The next Pokémon TCG expansion, Sword & Shield—Fusion Strike, has officially been announced and it is set to launch on November 12, 2021. This set introduces a new type of Battle Style, Fusion Strike Style, similar to Single Strike and Rapid Strike from the Sword & Shield—Battle Styles set.
Fusion Strike Pokémon are said to benefit from teamwork, having extra bonuses to their damage or effects if there are more Fusion Strike Pokémon in play. There are also Trainer and Energy cards that have the Fusion Strike mark on it, which can benefit the strategy.
The set contains 25 Fusion Strike Style cards altogether, including Mew VMAX, Genesect V, and Hoopa V. In total, there are 20 Pokémon V (13 available as full-art versions as well), 8 Pokémon VMAX, 20 Trainer cards (7 available as full-art Supporter cards), and 1 Special Energy card.
Below you'll find a look at some of the products available for the Sword & Shield—Fusion Strike set:
Booster Packs
Build & Battle Box and Stadium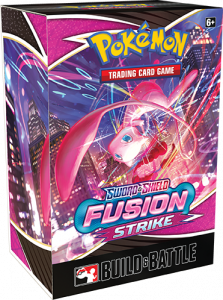 The Build & Battle Box is available from participating retailers and contain four booster packs, a 23-card Evolution pack (which also includes one of four special alternate-art promo cards for the set), and a deckbuilding tip sheet. It is available starting October 30, 2021.
The Build & Battle Stadium launches a bit later, launching on November 26, 2021, and it is a good way for two players to have a good time together as it contains two of the aforementioned Build & Battle Boxes, along with four additional booster packs of Sword & Shield—Fusion Strike, a pack of 121 Energy cards to make sure there's enough Energy to go around, a storage box, and a few other various Pokémon TCG accessories, which you can see above.
Elite Trainer Boxes
As always, Elite Trainer Boxes will be available for the expansion, and this time it focuses on the Pokémon Mew, with pink-and-blue Mew-themed sleeves, dice, separators, and more. The standard Elite Trainer Box contains 8 booster packs of Fusion Strike, 65 card sleeves, 6 damage-counter dice, 1 tournament-legal coin-flip die, a pack of basic Energy, a player's guide with pictures of every card in the set, a rulebook, and some acrylic special condition markers for Poison and Burn.
Additionally, exclusive to the Pokémon Center website is the Pokémon Center Elite Trainer Box, which has mostly the same contents as the standard version, except it has an additional 2 booster packs (10 total), a metallic coin featuring Mew, and it appears to have some sort of extra card sleeves featuring Genesect.