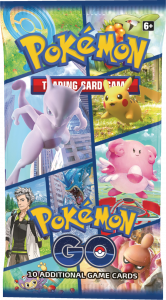 More details on the upcoming Pokémon GO expansion set for the Pokémon TCG have been revealed, with many cards revealed from the set, along with all sorts of products. The mini-expansion is themed around Pokémon GO and features some photorealistic art, though also features a lot of art inspired by the real world experiences of Pokémon GO as well.
As this is a special mini-expansion, similar to Celebrations from last year, packs are not available in traditional means or via booster boxes—instead, there are all sorts of assorted tins, collections, and mini-tins that contain cards as well as individual packs of the 78+ card set.
These products will be released in waves, with pre-orders available now on the Pokémon Center website (in the US, Canada, and the UK). The first batch of products releases on July 1, 2022, with some product launching after that.