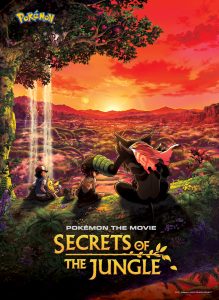 After nearly a year without any update, the previously announced Pokémon movie, Pokémon the Movie: Secrets of the Jungle, now has a (mostly) worldwide release date: October 8, 2021. This movie features the Mythical Pokémon Zarude and a human boy named Koko that grew up raised by one Zarude in particular, referred to as Dada.
The movie launches on Netflix on October 8, 2021 in every country that it's available in, with the exceptions of Japan, China, and South Korea. (You'll need to have an active Netflix subscription in order to watch the movie.)
To celebrate this release, a special Dada Zarude and a Shiny Celebi—both of which play a role in Secrets of the Jungle—will be distributed via distribution codes in an email to players that have a registered account on the Pokémon Trainer Club and have email notifications (marketing email preferences) enabled for their account. These two will be accessible in Pokémon Sword & Shield by using those codes and following the instructions in the email.
In order to receive this code, you must make sure you have a registered account and that email notifications are enabled by September 25, 2021, and the email containing the codes will (hopefully) be sent out on October 7, 2021. Here's hoping that there are no issues with the emails this time around, as last year's similar Zarude distribution saw many, many eager players (including Marriland himself and many in the Marriland community) fail to receive any email despite having an active Pokémon Trainer Club account with the proper box checked and receiving past promotional emails. If you already have an account and think you have email notifications enabled, it'd be a good idea to log in to double-check, just in case (a picture of the setting to enable can be found further below).