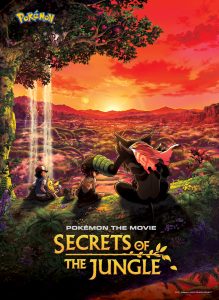 After nearly a year without any update, the previously announced Pokémon movie, Pokémon the Movie: Secrets of the Jungle, now has a (mostly) worldwide release date: October 8, 2021. This movie features the Mythical Pokémon Zarude and a human boy named Koko that grew up raised by one Zarude in particular, referred to as Dada.
The movie launches on Netflix on October 8, 2021 in every country that it's available in, with the exceptions of Japan, China, and South Korea. (You'll need to have an active Netflix subscription in order to watch the movie.)
To celebrate this release, a special Dada Zarude and a Shiny Celebi—both of which play a role in Secrets of the Jungle—will be distributed via distribution codes in an email to players that have a registered account on the Pokémon Trainer Club and have email notifications (marketing email preferences) enabled for their account. These two will be accessible in Pokémon Sword & Shield by using those codes and following the instructions in the email.
In order to receive this code, you must make sure you have a registered account and that email notifications are enabled by September 25, 2021, and the email containing the codes will (hopefully) be sent out on October 7, 2021. Here's hoping that there are no issues with the emails this time around, as last year's similar Zarude distribution saw many, many eager players (including Marriland himself and many in the Marriland community) fail to receive any email despite having an active Pokémon Trainer Club account with the proper box checked and receiving past promotional emails. If you already have an account and think you have email notifications enabled, it'd be a good idea to log in to double-check, just in case (a picture of the setting to enable can be found further below).
Synopsis of Secrets of the Jungle
Deep within the Forest of Okoya, the Mythical Pokémon Zarude live in a troop and maintain a strict rule that forbids outsiders from entering their territory. Elsewhere in the jungle lives Koko, a human boy raised by a lone Zarude who left the troop. Koko has grown up never doubting that he is a Zarude. But one day, a chance meeting with Ash and Pikachu leaves Koko with his first human friend. Is he truly a Pokémon? Or is he, in fact, a human? When danger threatens the jungle, the bonds between Pokémon and human—and the love between parent and child—will be put to the test.

Official Press Release
Screenshots from Secrets of the Jungle
Secrets of the Jungle Music Album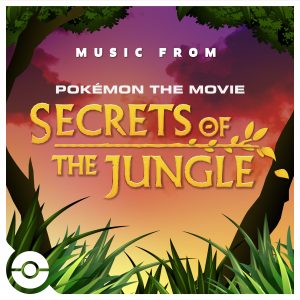 The first trailer for the movie, shown at the top of this post, contains two songs written and recorded by Cyn for the Pokémon movie—Always Safe and No Matter What. Cyn is also one of the artists in the P25 Music program with her recent song for the program, Wonderful, being released recently.
These two songs, along with My New Friends by Ben Dixon, are available right now on numerous music streaming platforms.
Marketing Preference Email Setting
In order to receive the distribution code for the special Dada Zarude and Shiny Celebi, you need to make sure you have registered for an account on the official Pokémon website. If you already have an account, you can log in from the included link; otherwise, you can create a new account there.
After you have an account and are logged in, go to the Edit Profile section of the website, make sure you are on the Profile Overview section, and then scroll down to the bottom until you see the Marketing Preference section and make sure the box is checked.
It looks like this:

Hit the "Save" button directly below that and you should be good to go. Hopefully. Also be sure to double-check your Spam and/or Promotions folder to make sure any communications, namely the one containing the code, don't end up there.