Blipbug • Sword & Shield Pokédex
Blipbug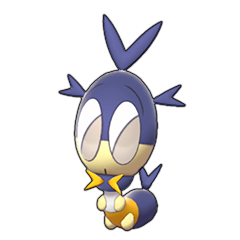 Blipbug's Pokédex #s
Galar #

10
National #

824
Misc. Info
EXP At Lv. 100:

1,000,000
Blipbug's Abilities
Here are what abilities Blipbug can possibly have, along with their effects.
Swarm

Increases the damage of Blipbug's Bug-type moves by 50% when it is at 1/3 or less HP.
Compound Eyes

Increases the accuracy of Blipbug's moves by 30% of their original accuracy.
Telepathy

Blipbug does not take damage from any of its allies moves.
Weaknesses & Resistances
Below is a list of what Blipbug's weakness and resistance is to various types.
2×
½
Blipbug's Moves
Below is a list of all of the moves that Blipbug can learn, along with what level it learns the move, the TM or TR number, and what egg moves it can learn, if any. Hover over a move (desktop/laptop) or click the ? button next to the move (mobile/tablet) to find out more about the move.
Level Up Moves
Here are all of the moves Blipbug learns via level up. Anything marked "Evo." means it learns it upon evolving. If the level is 1, it can be relearned at a Pokémon Center.
| Lv. | Move | Type | Category | Power | Acc.% | PP | Target | Info |
| --- | --- | --- | --- | --- | --- | --- | --- | --- |
| 1 | Struggle Bug | | | 50 | 100% | 20 | Nearby Enemies | |
Egg Moves
Here are all of the moves that Blipbug can learn as Egg Moves. In the case of evolved Pokémon, it shows what Egg Moves it can learn in its lowest evolutionary stage. Click the word EGG to find compatible breeding Pokémon to get that Egg Move onto Blipbug.
| | Move | Type | Category | Power | Acc.% | PP | Target | Info |
| --- | --- | --- | --- | --- | --- | --- | --- | --- |
| EGG | Infestation | | | 20 | 100% | 20 | One Target | |
| EGG | Supersonic | | | -- | 55% | 20 | One Target | |
| EGG | Sticky Web | | | -- | -- | 20 | Enemy Field | |
| EGG | Recover | | | -- | -- | 10 | User | |
Where to Find Blipbug
If you're looking for where to find Blipbug, you'll find the various methods listed down below, along with any notes or special locations. This should help you figure out how to get Blipbug in Pokémon Sword & Shield. (Currently this does not show most "strong" static encounters or Max Raid Battles.)
Blipbug in the Wild
Galar Route 1
Random Encounters
Any Weather
30%
Lv. 2-5
Galar Route 2
Random Encounters
Any Weather
40%
Lv. 4-6
Galar Route 2: Secret Area
Overworld Encounters
Any Weather
30%
Lv. 40-43
Random Encounters
Any Weather
10%
Lv. 37-40
Wild Area: Giant's Cap (2)
Overworld Encounters

Norm.

Over.

Rain

Strm.

Sun

Snow

Bliz.

Sand.

Fog
35%
--
--
--
--
--
--
--
--
Lv. 28-30
Wild Area: Giant's Cap (3)
Overworld Encounters

Norm.

Over.

Rain

Strm.

Sun

Snow

Bliz.

Sand.

Fog
35%
--
--
--
--
--
--
--
--
Lv. 29-32
Slumbering Weald (Early Areas)
Overworld Encounters
Any Weather
20%
Lv. 2-3