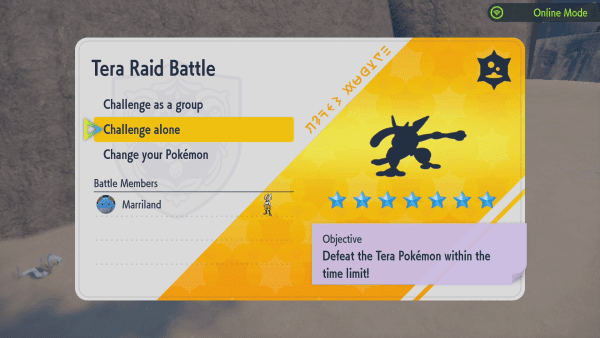 From now until January 29, 2023 at 3:59pm PST / 6:59pm EST (23:59 UTC), the first of the 7-star Tera Raid Battle Events featuring the sneaky frog Greninja is now available to challenge in Pokémon Scarlet & Violet. Like the Charizard and Cinderace that came before it, this Greninja is very powerful, comes with the special Mightiest Mark (giving it the "Greninja the Unrivaled" title in battle), and provides some excellent rewards throughout the weekend.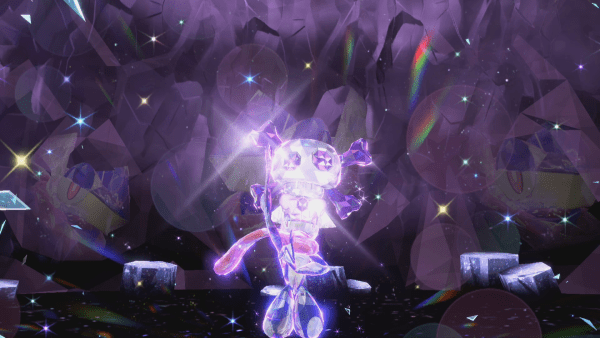 This Greninja is always a Poison Tera Type and you'll have to have unlocked the ability to challenge 6-star Raids before it will appear in your game, although you can join other players if they've unlocked it. According to Serebii.net, it knows Hydro Pump, Ice Beam, Gunk Shot, and Night Slash for attacking moves, and also has Toxic Spikes and Double Team as additional moves that it will use outside of attacking—in fact, it likes to start the fight off by using both of these, meaning you'll have to deal with its increased evasion and also your Pokémon becoming poisoned if they faint.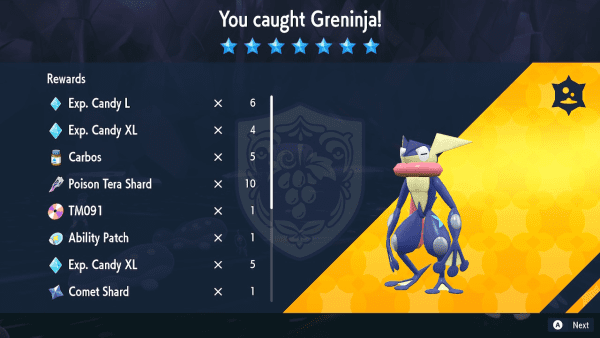 You can fight against Greninja an unlimited number of times while the event is live (and, actually, as long as you don't connect to the internet after it expires), although you can only catch it once. You'll be guaranteed to get an Ability Patch the first time you defeat it, along with TM091, but it also drops a lot of Exp. Candies L and XL, Carbos, mints, and more, along with additional chances of getting an Ability Patch.
This is the first of two runs of this event—it will run for a second time from February 9, 2023 at 4:00pm PST / 7:00pm EST (February 10, 2023 at 00:00 UTC) through February 12, 2023 at 3:59pm PST / 6:59pm EST (23:59 UTC).