Mega Alakazam • Generation VIII Pokédex
Mega Alakazam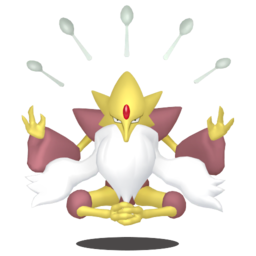 Alakazam's Pokédex #s
National #

65
Mega Alakazam's Base Stats
Misc. Info
Weight:

105.8 lbs. (48 kg)
EXP At Lv. 100:

1,059,680
Mega Alakazam's Abilities
Here is what ability Mega Alakazam has, along with its effect.
Trace

When Alakazam is sent out in battle, it copies one of the enemy Pokémon's abilities.
Weaknesses & Resistances
Below is a list of what Alakazam's weakness and resistance is to various types.
2×
½
Alakazam's Evolution Line
Below you'll find a list of all Pokémon Alakazam evolves from or into, along with its evolution method.
Alakazam's Alternate Forms
Base Form
Gender Differences
Male ♂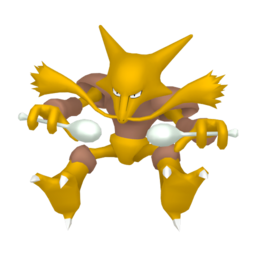 Female ♀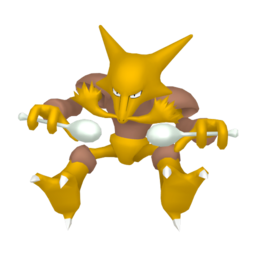 Mega Alakazam's Moves in Generation VIII
Moves unavailable for Generation VIII
Mega Alakazam's moves are unavailable in Pokémon Sword, Shield, Brilliant Diamond, and Shining Pearl, as Mega Alakazam itself is unavailable in these Generation VIII games.
Mega Alakazam's Detailed Stats
Below you'll find a more detailed table containing Mega Alakazam's calculated stats, which are the stats that you actually see displayed in game. These are affected by a variety of things, such as level, Effort Values (EVs), Individual Values (IVs), and Alakazam's Nature.

By default, the stats you see in the table below show four different possibilities, all assuming Alakazam is level 100: its stats with 0 EVs, 252+ (max) EVs, 0 IVs, and 31 (max) IVs. Nature is not shown by default, so its maximum is 10% higher than shown here, and minium 10% lower.
Stats at
level 100
0 EVs
252+ EVs
Base Stat
Min
Max
Min
Max
HP

220
251
283
314
55
Attack

105
136
168
199
50
Defense

135
166
198
229
65
Sp. Atk

355
386
418
449
175
Sp. Def

215
246
278
309
105
Speed

305
336
368
399
150
Total

600
Where to Find Mega Alakazam in Generation VIII
Pokédex Entries for Alakazam