The newest Pokémon TCG special expansion set, Shining Fates, released worldwide on Friday, and the main way to get cards from this massive set featuring over 100 Shiny Pokémon is by buying the various Shining Fates products.
Yesterday, Marriland unboxed and did a thorough review of the Shining Fates Elite Trainer Box, which is a good starting point if you want to read up on the set. That's not the only product that offers Shining Fates booster packs in it, though, so today Marriland will be taking a look at one of the three Shining Fates Tins, the Shiny Cramorant Tin, sent for review from The Pokémon Company International. You can watch the unboxing in the video above, or keep reading to see some additional thoughts and pictures of the tin and its contents.
Shining Fates Tins
First and foremost, although this review is for the Shiny Cramorant Tin, there are actually three different Shining Fates Tins available — the other two contain Shiny Boltund and Shiny Eldegoss respectively. The price and contents are the same, aside from the cover of the tin and the promo card included, which are of the respective Pokémon.
Each of these tins has a suggested retail price of US$29.99, making them quite a bit more expensive than some of the older tins, which usually went for between US$19.99 and US$24.99 at retail. However, while those tins usually contained 4 or 5 booster packs, these Shining Fates Tins do at least come with 6 Shining Fates booster packs, in addition to the promo card, so you do at least get a bit more for your money.
As you get 6 Shining Fates booster packs from the tins, that works out to an effective price of approximately US$5 per pack, which is pretty much the same you'd pay per pack of Shining Fates from other products.
The Promo Card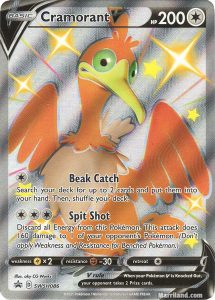 As mentioned earlier, the Shining Fates Tins each come with a promo card — a Full Art, Shiny Pokémon V. The tin I received was the Cramorant Tin, so it contained the Shiny Cramorant V you see above, but the other two tins contain similar Full Art, Shiny Pokémon V promos — Shiny Boltund V or Shiny Eldegoss V.
These are alternate art versions of cards from earlier sets featuring Shiny artwork instead of their usual art. They have the same moves and stats as their original versions, just with different art.
Cramorant V (Shiny or not) has some useful moves and is a Colorless Pokémon, making it very versatile. It is in the Sword & Shield series of promo cards, number SWSH086.
Beak Catch, for one Colorless Energy, allows you to search your deck for any 2 cards and put them into your hand. This is fantastic on a basic Pokémon that can fit in any kind of deck! Being able to search your deck each turn for anything you need is extremely useful.
Spit Shot takes three Colorless Energy and forces you to discard all of the Energy Cramorant V has attached when you use it, but it can hit any of your opponent's Pokémon for an impressive 160 damage. There's a Tropius in this set with Attach Leaves that can attach two discarded Grass Energy to one of your Benched Pokémon, so if you can find a way to switch between Cramorant V and Tropius each turn (Air Balloon would help with this), you can repeatedly use this combo to damage any of your opponent's Pokémon they're powering up on the Bench or even in their active spot.
The Booster Packs
You get a total of 6 Shining Fates booster packs in the Shining Fates Tin. These will have random contents, so it's a mystery what you'll end up getting. There are 73 cards in the main Shining Fates set, but then there's a sub-set within that set, the Shiny Vault, which has a total of 122 cards in it numbered SV001–SV122. These are the Shiny Pokémon, and they replace the reverse foil card in about 1-in-3 or 1-in-4 booster packs.
Yes, that means if you didn't pull any duplicates, it would take over 300 booster packs of Shining Fates to complete the Shiny Vault. It's going to be a nightmare to collect the entire Shiny Vault, but at least that means any Shiny Pokémon you do pull from your pack should be valuable to collectors looking either for that specific Pokémon or looking to complete their collection, so be on the lookout for trading opportunities with other collectors.
You can read more about the Shining Fates set and Shiny Vault sub-set over on the Shining Fates Elite Trainer Box review that went live yesterday, as that goes into it in a bit more detail.
The Actual Tin
For well over a decade, Pokémon TCG Tins have had the same basic shape — an oblong octagon. However, sometime in the past year or so, they've changed the design of the tins to make them larger and have a different shape.
The Shining Fates Tin for Cramorant V is the first tin I've gotten of the new size, so it's quite an adjustment for me, personally.
They do fit a lot more cards in them, but at the same time I feel the size is even odder. I feel that it would have been more useful to have it almost entirely rectangular rather than have two sloped sides, because then you could fit one row of cards along the top side and two smaller columns of cards on the edge (see the image on the right — the tin itself would actually need to be extended by about half an inch for this to fit, though).
It also means cards will slide around a lot more unless you fill it up, and it's harder to fill up due to the larger size. It's likely this will be the new standard size for tins, though, but these are just my personal opinions on it. It still provides good storage for your cards. You can also use these tins to store just about anything, not just Pokémon cards, so get creative!
Final Thoughts
Tins have been a staple of Pokémon TCG product for well over a decade, so it's no surprise to see more of them for Shining Fates. The price is definitely a bit high, but at least you're getting six booster packs in it — if you're looking for a cheaper entry to Shining Fates, the Mad Party Pin Collection is half the price (US$14.99) for half the packs (3 Shining Fates packs).
Regardless of which product you go with, expect to pay approximately US$5 per Shining Fates pack, so if the tins are appealing to you, get one, or one of each if you have the money for it.
As for the set itself, as alluded to earlier, it is going to be an absolute pain to collect the entire set, so focus first on getting the cards you want the most or personal favorites, then try to get what you can of it. The main set shouldn't be too tricky to complete — it's the 122-card Shiny Vault that will pose the biggest challenge.
Hopefully availability concerns are also reduced now that The Pokémon Company International is ramping up their production of Pokémon Trading Cards as well — until more stock arrives, it might also be hard to come by these due to increased demand, so be on the lookout for them as they restock either in your local stores or online.