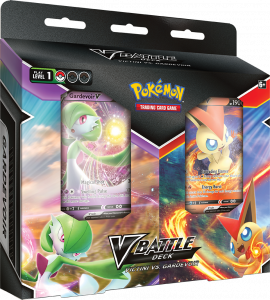 Today, two special new V Battle Decks—featuring Victini V and Gardevoir V—have been released and are available for purchase. These decks contain promo versions of either Victini V or Gardevoir V, and unlike normal preconstructed theme decks which do not usually contain cards like Pokémon V cards, these ones do, which is nice.

Each of these decks contain a prebuilt standard 60-card deck, damage counters, a coin, deckbox, playmat, rulebook, and a Quick Guide "to help players learn winning strategies."
Not only that, but there's also a two-pack version available, the V Battle Deck—Victini vs. Gardevoir bundle, that contains both of the two decks, as well as eight additional Trainer cards, including two foil cards, so this is a better deal if you're looking to get both anyway or if you have a buddy you'd like to learn the Pokémon TCG with.
Victini V Deck List
| | |
| --- | --- |
| Card Name | Qty. |
| Victini V | ×1 |
| Cinderace | ×2 |
| Raboot | ×3 |
| Scorbunny | ×3 |
| Ninetales | ×2 |
| Vulpix | ×3 |
| Turtonator | ×1 |
| Cinccino | ×1 |
| Minccino | ×2 |
| Chatot | ×2 |
| Bede | ×2 |
| Dan | ×2 |
| Evolution Incense | ×1 |
| Great Ball | ×2 |
| Gym Trainer | ×2 |
| Hop | ×4 |
| Level Ball | ×2 |
| Milo | ×2 |
| Professor's Research | ×2 |
| Sonia | ×1 |
| Switch | ×2 |
| Fire Energy | ×18 |
Gardevoir V Deck List
| | |
| --- | --- |
| Card Name | Qty. |
| Gardevoir V | ×1 |
| Granbull | ×2 |
| Snubbull | ×3 |
| Clefable | ×2 |
| Clefairy | ×2 |
| Dragapult | ×2 |
| Drakloak | ×3 |
| Dreepy | ×3 |
| Hawlucha | ×2 |
| Bede | ×1 |
| Dan | ×2 |
| Evolution Incense | ×2 |
| Great Ball | ×2 |
| Gym Trainer | ×2 |
| Hop | ×4 |
| Level Ball | ×2 |
| Potion | ×1 |
| Professor's Research | ×2 |
| Sonia | ×1 |
| Switch | ×2 |
| Suspicious Food Tin | ×1 |
| Psychic Energy | ×18 |
V Battle Deck—Victini vs. Gardevoir
In addition to both of the above decks, the bundle contains the following Trainers:
| | |
| --- | --- |
| Card Name | Qty. |
| Boss's Orders | ×2 |
| Quick Ball | ×2 |
| Marnie | ×2 |
| Professor's Research (Professor Juniper) (Foil) | ×2 |