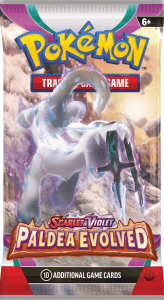 The second expansion set in the Pokémon TCG: Scarlet & Violet series (counting the base Scarlet & Violet as the first, of course) has officially been released worldwide as of today. Scarlet & Violet—Paldea Evolved features over 270 cards total, with 193 cards in the main set and then a total of 279 cards after you factor in the secret rares. That's quite a large set!
It features Pokémon ex versions of the starter Pokémon's final evolutions—Meowscarada ex, Skeledirge ex, and Quaquaval ex—along with the four Treasures of Ruin—Ting-Lu ex, Chien-Pao ex, Chi-Yu ex, and Wo-Chien ex. There are several other Pokémon ex in the set, too, as well as a variety of Trainer cards and helpful cards in general.
One recurring theme that seems to be present on many of the cards in the new set is making a comeback. Many cards have special effects or do extra damage while you are behind in Prize cards, making them a powerful tool to get back into the game and catch up with your opponent.
---

You can check out all of the cards as well as over 180 scans on the Pokémon TCG Scarlet & Violet—Paldea Evolved Database Page here on the Marriland website. Using the Binder View is also a good way to sort them into your binder as well as see which cards have scans on the Marriland website.
---
DISCLAIMER: The product covered in this video review was provided by The Pokémon Company International free of charge. No monetary or financial compensation was exchanged for this review by either party, and all thoughts and opinions are independent.