(Disclaimer: the product in this review was provided to Marriland.com free of charge by Pokémon.)
The Pokémon TCG: Detective Pikachu Case File (US$9.99) is one of many products available for the recent live-action Pokémon Movie, POKÉMON: Detective Pikachu, and it ties into the Pokémon Trading Card Game through a special mini-set known simply as the "Detective Pikachu" TCG set.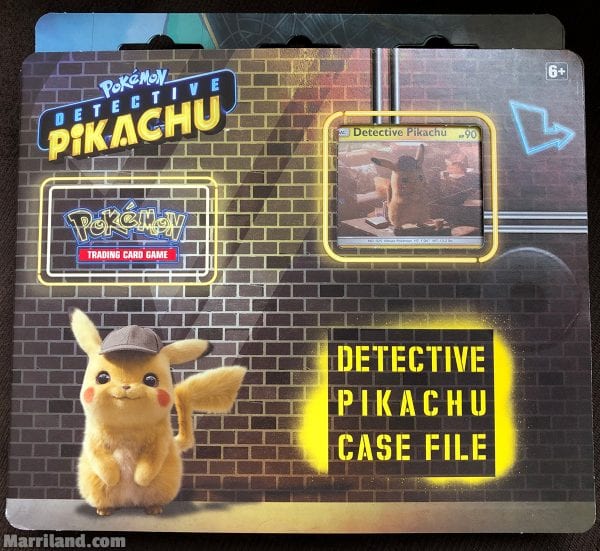 This Detective Pikachu TCG set is special in the sense that you can't just go out and buy these packs on their own, at least not at retail — they are instead contained within certain Case Files and Collector's Chests, and the Detective Pikachu Case File is the cheapest of the bunch, with a retail price of US$9.99.
Inside the Pokémon TCG: Detective Pikachu Case File are two of those Detective Pikachu TCG booster packs, which each contain 4 cards from the 18-card Detective Pikachu set, in addition to one Pokémon TCG booster pack from the Sun & Moon series of sets (the Case File I received had a pack of Sun & Moon—Crimson Invasion in it), a Detective Pikachu promo card (SM194), a Detective Pikachu coin, and a code card for the Pokémon Trading Card Game Online.
You can find a picture of the Detective Pikachu promo card and the coin down below:
---
You can see more of the Detective Pikachu TCG set cards in this earlier post, and you can see more Detective Pikachu products and information in the site's Detective Pikachu tag.
Stay tuned for written and video reviews of the remaining Pokémon Detective Pikachu Case Files, as they'll be hitting the site later this week.