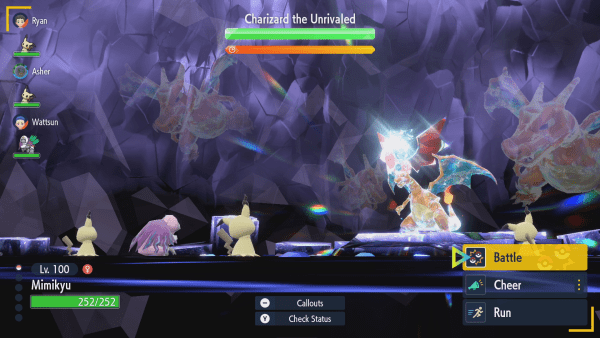 The 7-star Charizard the Unrivaled Tera Raid Event that took place two weeks ago is back for its second run, running until December 18, 2022 at 3:59pm PST / 6:59pm EST (23:59 UTC). This fearsome Charizard always has a Dragon Tera Type and is exceptionally strong, which may prove to be a challenge for you and your friends to take down.
If you've previously caught this Charizard with the Mightiest Mark, you won't be able to catch another one, but you can still fight against the Charizard once per day on your own game, or more if you join other players in their games. You can do this to get more of Charizard's rewards, which are quite nice—you're guaranteed an Ability Patch on your first victory, but even afterwards, you still have a chance of getting one.
Also, while you can fight against the Charizard at any time after unlocking the Poké Portal if you join friends or other players online, you won't be able to find Charizard in your own game until after you've beaten the game (seen the credits) and after you've beaten the Academy Ace Tournament, and then you also need to fight several 5-star Tera Raid Battles (by yourself or online with other players) before you unlock 6-star Tera Raid Battles.
Once you've unlocked 6-star Tera Raid Battles, you'll be able to find the glowing icon on your map with one of the "black Tera Dens" to signify that's where Charizard is (it doesn't replace your daily 6-star Tera Raid).
Looking for some tips to take down this Charizard? There are a few helpful tips in the following post that should help you take down Charizard, which has been updated with some new strategies: