Pyroar • Generation VIII Pokédex
Pyroar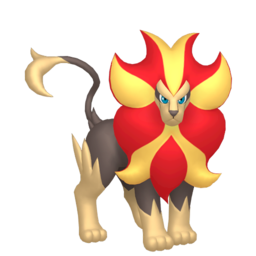 Pyroar's Pokédex #s
National #

668
Misc. Info
Weight:

179.7 lbs. (81.5 kg)
EXP At Lv. 100:

1,059,680
Pyroar's Abilities
Here are what abilities Pyroar can possibly have, along with their effects.
Rivalry

Damage Pyroar does to Pokémon of the same gender is increased by 25%, and reduced by 25% to the opposite gender.
Unnerve

No opposing Pokémon can consume any Berries while Pyroar is on the field.
Moxie

Raises Pyroar's Attack by one stage whenever it knocks out a Pokémon.
Weaknesses & Resistances
Below is a list of what Pyroar's weakness and resistance is to various types.
2×
½
immune
Pyroar's Evolution Line
Below you'll find a list of all Pokémon Pyroar evolves from or into, along with its evolution method.
Pyroar's Alternate Forms
Gender Differences
Male ♂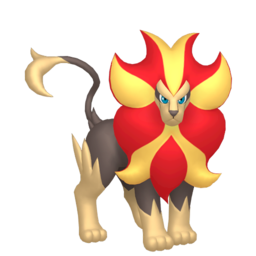 Female ♀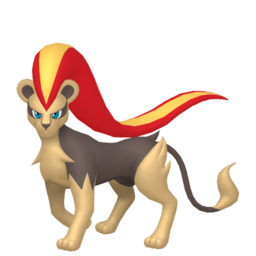 Pyroar's Moves in Generation VIII
Moves unavailable for Generation VIII
Pyroar's moves are unavailable in Pokémon Sword, Shield, Brilliant Diamond, and Shining Pearl, as Pyroar itself is unavailable in these Generation VIII games.
Pyroar's Detailed Stats
Below you'll find a more detailed table containing Pyroar's calculated stats, which are the stats that you actually see displayed in game. These are affected by a variety of things, such as level, Effort Values (EVs), Individual Values (IVs), and Pyroar's Nature.

By default, the stats you see in the table below show four different possibilities, all assuming Pyroar is level 100: its stats with 0 EVs, 252+ (max) EVs, 0 IVs, and 31 (max) IVs. Nature is not shown by default, so its maximum is 10% higher than shown here, and minium 10% lower.
Stats at
level 100
0 EVs
252+ EVs
Base Stat
Min
Max
Min
Max
HP

282
313
345
376
86
Attack

141
172
204
235
68
Defense

149
180
212
243
72
Sp. Atk

223
254
286
317
109
Sp. Def

137
168
200
231
66
Speed

217
248
280
311
106
Total

507
Where to Find Pyroar in Generation VIII
Pokédex Entries for Pyroar
Generation 7 Pokédex Entries
The males are usually lazy, but when attacked by a strong foe, a male will protect its friends with no regard for its own safety.
The temperature of its breath is over 10,000 degrees Fahrenheit, but Pyroar doesn't use it on its prey. This Pokémon prefers to eat raw meat.
Generation 6 Pokédex Entries
The male with the largest mane of fire is the leader of the pride.
With fiery breath of more than 10,000 degrees Fahrenheit, they viciously threaten any challenger. The females protect the pride's cubs.