Magmortar • Generation IV Pokédex
Magmortar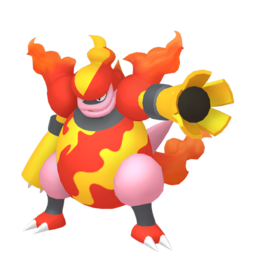 Magmortar's Pokédex #s
National #

467
Galar #

--
Armor #

--
Crown #

20
Misc. Info
Weight:

149.9 lbs. (68 kg)
EXP At Lv. 100:

1,000,000
Magmortar's Abilities
Here are what abilities Magmortar can possibly have, along with their effects.
Flame Body

30% chance of burning the attacker when Magmortar is damaged by a contact move. Speeds up egg hatching outside of battle.
Vital Spirit

Magmortar cannot fall asleep or use Rest.
Weaknesses & Resistances
Below is a list of what Magmortar's weakness and resistance is to various types.
2×
½
Magmortar's Moves
Below is a list of all of the moves that Magmortar can learn, along with what level it learns the move, the TM or TR number, and what egg moves it can learn, if any. Hover over a move (desktop/laptop) or click the ? button next to the move (mobile/tablet) to find out more about the move.
Magmortar's Detailed Stats
Below you'll find a more detailed table containing Magmortar's calculated stats, which are the stats that you actually see displayed in game. These are affected by a variety of things, such as level, Effort Values (EVs), Individual Values (IVs), and Magmortar's Nature.

By default, the stats you see in the table below show four different possibilities, all assuming Magmortar is level 100: its stats with 0 EVs, 252+ (max) EVs, 0 IVs, and 31 (max) IVs. Nature is not shown by default, so its maximum is 10% higher than shown here, and minium 10% lower.
Stats at
level 100
0 EVs
252+ EVs
Base Stat
Min
Max
Min
Max
HP

260
291
323
354
75
Attack

195
226
258
289
95
Defense

139
170
202
233
67
Sp. Atk

255
286
318
349
125
Sp. Def

195
226
258
289
95
Speed

171
202
234
265
83
Total

540
Where to Find Magmortar
If you're looking for where to find Magmortar, you'll find the various methods listed down below, along with any notes or special locations. This should help you figure out how to get Magmortar in Pokémon Sword & Shield. (Currently this does not show most "strong" static encounters or Max Raid Battles.)
Special Ways to Get Magmortar
Available in some Max Raid Dens in the Crown Tundra (DLC).
Getting Magmortar By Evolution
Evolves from
Magmar
when traded while holding a

Magmarizer.
Pokédex Entries for Magmortar
Generation 4 Pokédex Entries
It blasts fireballs of over 3,600 degrees F from the ends of its arms. It lives in volcanic craters.
When launching 3,600 degrees F fireballs, its body takes on a whitish hue from the intense heat.
It blasts fireballs of over 3,600 degrees Fahrenheit out of its arms. Its breath also sears and sizzles.