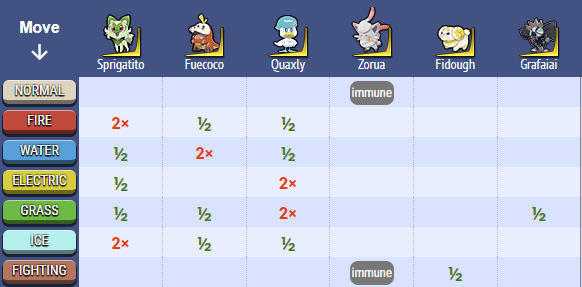 With Pokémon Scarlet & Violet having officially released in most of the world, I've been busy all day working on updating the Marriland Pokémon Team Builder to add full information for all of the newly-added Pokémon and forms in Scarlet & Violet!
Now, so long as you're using the English version of the Marriland Team Builder, you'll be able to input any and all Pokémon that were added to the game, along with any existing Pokémon. Abilities are also supported, as there are a few new Abilities that affect weaknesses and resistances.
I hope this tool will be helpful to you as you catch all sorts of Pokémon in the Paldea region and try to decide on which Pokémon to add to your team!
Known Bugs/Issues
There are still a few things that need to be worked out, but I'll work on these in the future. Keep them in mind for now, though:
Only the English names of new Pokémon, Abilities, and Forms are available! Sorry about that—I didn't have immediate access to all of the international names of things, but I'll work on adding those early next week.

In the meantime, you should still be able to input the English names of things regardless of which language you're using.

New Moves are not yet added! If you're using the Advanced Mode to input your moves, currently new moves are not yet added to the database, so you won't be able to use any new moves to check offensive coverage. You can simply substitute any missing move with an earlier move of the same type, though. This is something I will hopefully add sometime next week as I work a bit more on the Pokédex.
UPDATE (Nov. 21, 2022): Fixed Veluza's type (should have been Water/Psychic, not Water) and added a proper image for Rockruff (Own Tempo).
If you come across any other bugs or issues, please feel free to reach out to me on either Twitter or Facebook and I'll look into it!
Credits
This data was made possible thanks to the pastebins of Slp32 and Vagrantwade that contained the necessary information, as well as images from @mattyoukhana_ on Twitter.