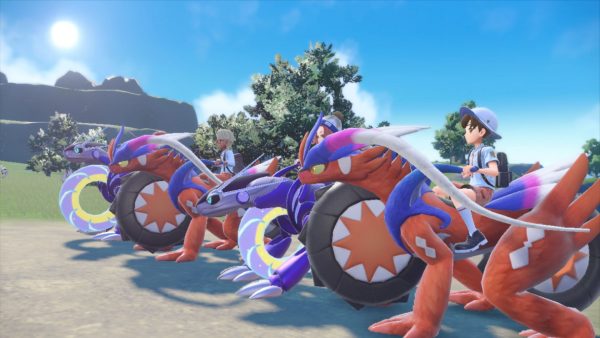 It's official: Pokémon Scarlet & Violet are now officially released worldwide! The games are now officially available everywhere, including North America, Europe, Asia, Australia and New Zealand, and elsewhere!
As such, the Marriland website will undergo some updates to cover the games. As Marriland (that's me!) is based in the US, full Scarlet & Violet Walkthrough coverage won't begin until the games are released in North America, but here are the other current plans for coverage for the Marriland website…
Updates to the Marriland Team Builder
UPDATE: The Marriland Team Builder has been successfully updated to reflect the changes outlined below!
The Marriland Team Builder will be updated with the new Pokémon using what data has been made available. A separate update post will be made once preliminary compatibility has been added to the Team Builder.
Types/weaknesses/resistances will be added for the new Pokémon hopefully by the end of the day, along with their English names ✅
Icons or images of the new Pokémon are not likely to be available for the next few days. (✅ got 'em!)
Non-English names are not going to be available immediately, although will hopefully be added in the next few days. If you use the Team Builder in a language other than English, you'll need to use the English name until other language names are added. (❌ still need to add this)
A few new Abilities that affect weakness/resistance will be added at a later date. (✅ actually got this one too!)
I look forward to having this updated in the next few hours so you can help plan your teams out properly throughout your adventure! Thank you for your patience!
Updates to the Marriland Pokédex
Another important section of the Marriland website is the Pokédex. This is something that is undergoing some major changes, so I will try my best to process all of the data into a Pokédex database, but with it being a new generation, it may require some additional changes.
Development on the new version of the Pokédex will continue over the coming days, but understand that it might take a bit of time to complete, especially while focusing on the written walkthrough.
The Scarlet & Violet Walkthrough
This is another high-priority task that I will be working on throughout the coming weeks—a complete Scarlet & Violet Walkthrough! As mentioned earlier, work on this cannot begin until the North American launch, but it is something that will be worked on and updated constantly.
As this is an open-world game, it will be very different when it comes to reading a walkthrough, not to mention actually writing the darn thing, but I will do my best to try to have a good pathway to get through the game and will be playing through multiple times of both Scarlet & Violet.
Video guides will eventually be included on the pages that will help showcase some of the things to do in those specific areas.
What About YouTube Videos?
While I do occasionally produce Pokémon-related YouTube videos on the official Marriland YouTube channel, I do apologize, but I will not be producing YouTube videos during the launch period of Scarlet & Violet this time around. My focus is on my website, which I ultimately feel will be of greater use to the Pokémon community as a whole, so this time around, I will not be pursuing producing YouTube videos, at least until after my coverage for the website is complete.
I'm sure that there will be no shortage of content creators to watch if you're looking for entertainment, and you can look forward to embedded, edited videos (non-YouTube) directly on the walkthrough pages that showcase the various areas. Thank you for understanding!