A new trailer for Pokémon Scarlet & Violet was released today and it focused more on various gameplay mechanics that have already been shown, but it did hint at some sort of Pokémon with an apparent connection to Donphan—two of them, in fact.
Arven, one of the upperclassmen of the academy, carries either the Scarlet Book or the Violet Book—depending on which version you're playing—with him at all times. Contained within that book, and teased in the trailer, are two "Monsters": the Monster known as Great Tusk (Scarlet Book only), and the Monster known as Iron Treads (Violet Book only).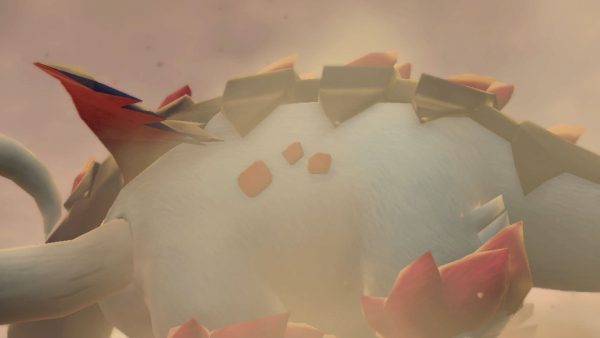 Although it was not outright said that these two "monsters" are related to Donphan, it is overwhelmingly apparent by their appearance. Whether it is a new form or a new evolution of Donphan is presently unknown.
More Information Revealed
Although the above trailer did not contain very much news, the official Pokémon Scarlet & Violet website updated with some new information about the game. Here are a few miscellaneous points:
Pokémon HOME compatibility will be coming in early 2023 and will feature enhanced information about Pokémon's usage in online battles, such as which Abilities were used most frequently.

Only Pokémon that are available in Scarlet & Violet will be able to be transferred to the games.

If you have existing play records from past Pokémon games on the Nintendo Switch, you'll be able to receive phone cases for your Rotom Phone that are styled after the respective game or pair of games.
Some Tera Raid Battles will be special, limited time ones which feature certain Pokémon, meaning they will appear in Tera Raid Battles more often. Sometimes they are locked to specific types or Abilities.

The Eevee Spotlight is the first of the Tera Raid Battle events, taking place from Thursday, Nov. 24, 2022 through Sunday, Nov. 27, 2022. It features Eevee with a variety of Tera Types.
A powerful Charizard will be available from Dec. 1–4, 2022 as well as Dec. 15–18, 2022. It will appear in "black Tera Raid crystals" after "certain postgame events" (although other players that have not met those requirements can still join a raid). It can only be caught once per save file and also has a mark on it, the Mightiest Mark, to signify it is a special Charizard.