Tropius • Generation IV Pokédex
Tropius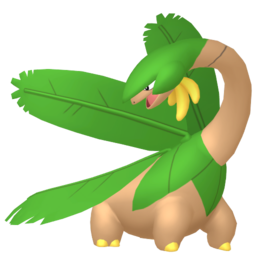 Tropius's Pokédex #s
National #

357
Misc. Info
Weight:

220.5 lbs. (100 kg)
Egg Groups:

Monster / Grass
EXP At Lv. 100:

1,250,000
Tropius's Abilities
Here are what abilities Tropius can possibly have, along with their effects.
Chlorophyll

Doubles Tropius's Speed while the weather is Sunny.
Solar Power

While the weather is sunny, Tropius's Special Attack is increased by 50%, but it takes 1/8 its max HP damage each turn.
Harvest

Has a chance of reequipping a Berry that Tropius previously consumed in battle. Always activates in sunny weather.
Weaknesses & Resistances
Below is a list of what Tropius's weakness and resistance is to various types.
4×
2×
½
¼
immune
Tropius's Evolution Line
Tropius does not evolve into any other known or available Pokémon.
Tropius's Moves
Below is a list of all of the moves that Tropius can learn, along with what level it learns the move, the TM or TR number, and what egg moves it can learn, if any. Hover over a move (desktop/laptop) or click the ? button next to the move (mobile/tablet) to find out more about the move.
Tropius's Detailed Stats
Below you'll find a more detailed table containing Tropius's calculated stats, which are the stats that you actually see displayed in game. These are affected by a variety of things, such as level, Effort Values (EVs), Individual Values (IVs), and Tropius's Nature.

By default, the stats you see in the table below show four different possibilities, all assuming Tropius is level 100: its stats with 0 EVs, 252+ (max) EVs, 0 IVs, and 31 (max) IVs. Nature is not shown by default, so its maximum is 10% higher than shown here, and minium 10% lower.
Stats at
level 100
0 EVs
252+ EVs
Base Stat
Min
Max
Min
Max
HP

308
339
371
402
99
Attack

141
172
204
235
68
Defense

171
202
234
265
83
Sp. Atk

149
180
212
243
72
Sp. Def

179
210
242
273
87
Speed

107
138
170
201
51
Total

460
Where to Find Tropius
Unavailable in Pokémon Sword & Shield
Tropius is unavailable in Pokémon Sword & Shield and cannot be transferred to either of those games from Pokémon HOME. You can still obtain it in earlier versions of Pokémon games and can still collect it for your National Pokédex in Pokémon HOME.
Notes About Tropius
Unavailable in Pokémon Sword/Shield.
Pokédex Entries for Tropius
Generation 4 Pokédex Entries
Because it continually ate only its favorite fruit, the fruit started growing around its neck.
Delicious fruits grew out from around its neck because it always ate the same kind of fruit.
The bunch of fruit around its neck ripens twice a year and is delicious. It's a highly favored tropical snack.
Generation 3 Pokédex Entries
The bunches of fruit around TROPIUS's neck are very popular with children. This POKéMON loves fruit, and eats it continuously. Apparently, its love for fruit resulted in its own outgrowth of fruit.
Children of the southern tropics eat as snacks the fruit that grows in bunches around the neck of TROPIUS. This POKéMON flies by flapping the leaves on its back as if they were wings.
It flies by flapping its broad leaves. The bunch of fruit that grows around its neck is deliciously sweet. In the spring, it scatters pollen from its neck.
It lives in tropical jungles. The bunch of fruit around its neck is delicious. The fruit grows twice a year.