Palkia • Generation IV Pokédex
Palkia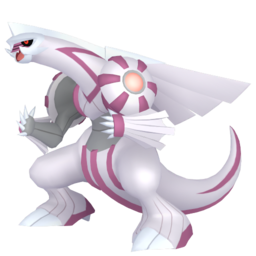 Palkia's Pokédex #s
National #

484
Sinnoh #

150
Misc. Info
Weight:

740.8 lbs. (336 kg)
EXP At Lv. 100:

1,250,000
Palkia's Abilities
Here are what abilities Palkia can possibly have, along with their effects.
Pressure

Moves that target Palkia consume 1 PP more than normal.
Telepathy

Palkia does not take damage from any of its allies moves.
Weaknesses & Resistances
Below is a list of what Palkia's weakness and resistance is to various types.
2×
½
¼
Palkia's Evolution Line
Palkia does not evolve into any other known or available Pokémon.
Palkia's Moves
Below is a list of all of the moves that Palkia can learn, along with what level it learns the move, the TM or TR number, and what egg moves it can learn, if any. Hover over a move (desktop/laptop) or click the ? button next to the move (mobile/tablet) to find out more about the move.
Palkia's Detailed Stats
Below you'll find a more detailed table containing Palkia's calculated stats, which are the stats that you actually see displayed in game. These are affected by a variety of things, such as level, Effort Values (EVs), Individual Values (IVs), and Palkia's Nature.

By default, the stats you see in the table below show four different possibilities, all assuming Palkia is level 100: its stats with 0 EVs, 252+ (max) EVs, 0 IVs, and 31 (max) IVs. Nature is not shown by default, so its maximum is 10% higher than shown here, and minium 10% lower.
Stats at
level 100
0 EVs
252+ EVs
Base Stat
Min
Max
Min
Max
HP

290
321
353
384
90
Attack

245
276
308
339
120
Defense

205
236
268
299
100
Sp. Atk

305
336
368
399
150
Sp. Def

245
276
308
339
120
Speed

205
236
268
299
100
Total

680
Where to Find Palkia
If you're looking for where to find Palkia, you'll find the various methods listed down below, along with any notes or special locations. This should help you figure out how to get Palkia in Pokémon Sword & Shield. (Currently this does not show most "strong" static encounters or Max Raid Battles.)
Exclusive to Pokémon Shield
Palkia is exclusive to Pokémon Shield, so if you are playing Pokémon Sword, you will need to trade with someone playing Pokémon Shield in order to obtain it for your Pokédex.
Special Ways to Get Palkia
Catchable as a legendary boss Pokémon during Dynamax Adventures in Crown Tundra (DLC), level 70. Exclusive to Pokémon Shield, but can be found in any version in multiplayer Dynamax Adventures if at least one player is playing Shield. Only one of this Pokémon can be caught and taken with you in Dynamax Adventures per game save. Keep this in mind if attempting to get a Shiny version of this Pokémon! (Catching this Pokémon but refusing to take it with you after the Dynamax Adventure is complete will still allow you to try again in the future, with a new chance of it being Shiny.)
Pokédex Entries for Palkia
Generation 4 Pokédex Entries
It has the ability to distort space. It is described as a deity in Sinnoh-region mythology.
It is said to live in a gap in the spatial dimension parallel to ours. It appears in mythology.
A legendary Pokémon of Sinnoh. It is said that space becomes more stable with PALKIA's every breath.
Its total control over the boundaries of space enable it to transport itself to faraway places or even other dimensions.