Origin Giratina • Generation IV Pokédex
⚠ Scarlet/Violet support is in the works! ⚠
Origin Giratina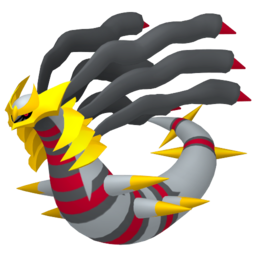 Giratina's Pokédex #s
National #

487
Origin Giratina's Base Stats
Misc. Info
Weight:

1433 lbs. (650 kg)
EXP At Lv. 100:

1,250,000
Origin Giratina's Abilities
Here is what ability Origin Giratina has, along with its effect.
Levitate

Giratina is unaffected by Ground-type moves, as well as Spikes, Toxic Spikes, Arena Trap, etc.
Weaknesses & Resistances
Below is a list of what Giratina's weakness and resistance is to various types.
2×
½
immune
Giratina's Evolution Line
Giratina does not evolve into any other known or available Pokémon.
Giratina's Alternate Forms
Transformations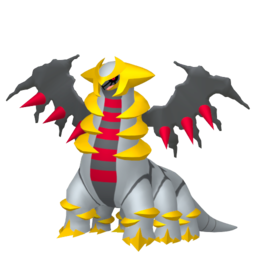 Altered Forme
Origin Giratina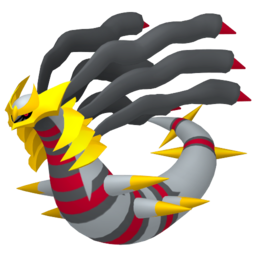 Origin Forme
Giratina's Moves
Below is a list of all of the moves that Giratina can learn, along with what level it learns the move, the TM or TR number, and what egg moves it can learn, if any. Hover over a move (desktop/laptop) or click the ? button next to the move (mobile/tablet) to find out more about the move.
Origin Giratina's Detailed Stats
Below you'll find a more detailed table containing Origin Giratina's calculated stats, which are the stats that you actually see displayed in game. These are affected by a variety of things, such as level, Effort Values (EVs), Individual Values (IVs), and Giratina's Nature.

By default, the stats you see in the table below show four different possibilities, all assuming Giratina is level 100: its stats with 0 EVs, 252+ (max) EVs, 0 IVs, and 31 (max) IVs. Nature is not shown by default, so its maximum is 10% higher than shown here, and minium 10% lower.
Stats at
level 100
0 EVs
252+ EVs
Base Stat
Min
Max
Min
Max
HP

410
441
473
504
150
Attack

245
276
308
339
120
Defense

205
236
268
299
100
Sp. Atk

245
276
308
339
120
Sp. Def

205
236
268
299
100
Speed

185
216
248
279
90
Total

680
Where to Find Origin Giratina
If you're looking for where to find Origin Giratina, you'll find the various methods listed down below, along with any notes or special locations. This should help you figure out how to get Giratina in Pokémon Sword & Shield. (Currently this does not show most "strong" static encounters or Max Raid Battles.)
Notes About Origin Giratina
Giratina
changes into its Origin Forme as long as it holds the

Griseous Orb, which can be found in Stow-on-Side by talking to the antique merchant with
Giratina
in your party.
Pokédex Entries for Giratina