Ditto • Sword & Shield Pokédex
Ditto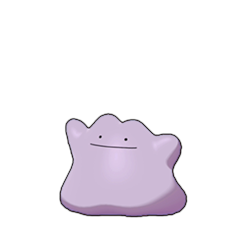 Ditto's Pokédex #s
Galar #

373
National #

132
Misc. Info
EXP At Lv. 100:

1,000,000
Ditto's Abilities
Here are what abilities Ditto can possibly have, along with their effects.
Limber

Ditto cannot become paralyzed.
Imposter

Ditto immediately uses Transform when it is sent out.
Weaknesses & Resistances
Below is a list of what Ditto's weakness and resistance is to various types.
2×
immune
Ditto's Evolution Line
Ditto does not evolve into any other known or available Pokémon.
Ditto's Moves
Below is a list of all of the moves that Ditto can learn, along with what level it learns the move, the TM or TR number, and what egg moves it can learn, if any. Hover over a move (desktop/laptop) or click the ? button next to the move (mobile/tablet) to find out more about the move.
Level Up Moves
Here are all of the moves Ditto learns via level up. Anything marked "Evo." means it learns it upon evolving. If the level is 1, it can be relearned at a Pokémon Center.
| Lv. | Move | Type | Category | Power | Acc.% | PP | Target | Info |
| --- | --- | --- | --- | --- | --- | --- | --- | --- |
| 1 | Transform | | | -- | -- | 10 | One Target | |
Where to Find Ditto
If you're looking for where to find Ditto, you'll find the various methods listed down below, along with any notes or special locations. This should help you figure out how to get Ditto in Pokémon Sword & Shield. (Currently this does not show most "strong" static encounters or Max Raid Battles.)
Special Ways to Get Ditto
Ditto is also available in rare raids (purple beams) in the Stony Wilderness, near some rocks in the southeastern corner sort of near the bridge. This can be a good way to get Ditto with high IVs for breeding purposes.
Ditto in the Wild
Wild Area: Lake of Outrage
Overworld Encounters

Norm.

Over.

Rain

Strm.

Sun

Snow

Bliz.

Sand.

Fog
10%
10%
10%
10%
10%
10%
10%
10%
10%
Lv. 55-58
Lv. 55-58
Lv. 55-58
Lv. 55-58
Lv. 55-58
Lv. 55-58
Lv. 55-58
Lv. 55-58
Lv. 55-58
Random Encounters

Norm.

Over.

Rain

Strm.

Sun

Snow

Bliz.

Sand.

Fog
2%
--
--
--
--
--
--
--
--
Lv. 50-52